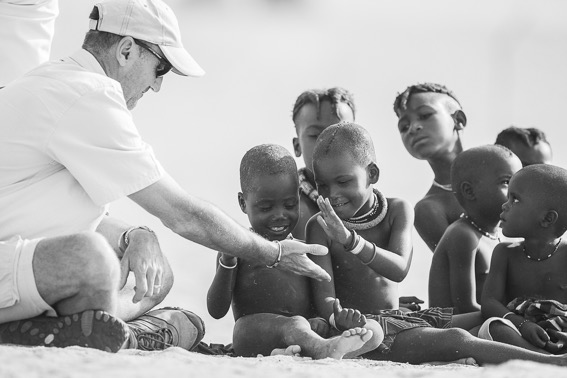 I am an African and I absolutely love Africa! I do what I do because it gets me out into the wilderness where I am happy. And the best way to achieve that is to take people with me because an experience is so much more fun when it is shared.
My purpose and pleasure is to share with my clients the awesome raw beauty, the myriad wild creatures and the wonderful peoples of the African continent. I've seen so much of it and I have seen how African safari affects people. Africa bites! I'd love to see that change in you, too.
I have been doing this professionally for over twenty-three years, with a deep and abiding passion, and I still love every moment in the wilderness of Africa. LCCA is a founder-led and driven company: what you get is authentic, personal and passionate.
1.Who am I?
I was raised in the farming districts and rural towns of KwaZulu-Natal, and grew up camping, birding and hiking amongst the grasslands, forests and streams of the Drakensberg mountains and the game-rich game reserves of the South African east coast.
I completed an Honours degree in historical geography and secondary-school teaching at the University of KwaZulu-Natal, after which I was conscripted into the South African Army for two years. I then became a history teacher and sports coach in Durban for three years. But the life-long allure of the bush prevailed, and I started a career in environmental tourism at the prestigious Mala Mala Game Reserve. Later, a four-year trans-globe journey took me and my wife Sue to Europe, the UK, the USA, the Middle East, Nepal and Japan (where we taught English for two years), Thailand and Australia, but in 1997 we moved to the Okavango Delta of Botswana to manage safari camps for Linyanti Explorations and later, Wilderness Safaris.
Sue and I were transferred to Namibia in 2001, where Sue worked as a travel consultant and I was appointed Concession Manager of several Wilderness Safaris camps. Hereafter, I was tasked with establishing a Training Division for Wilderness Safaris in Windhoek, which provided sixteen luxury lodges with the managers, service personnel and safari guides that they required to operate at the highest level. I simultaneously worked alongside various NGO's and with voluntary tourism bodies in taking training to the community areas of Namibia, and served on the Namibian Academy of Training & Hospitality as a board member. I also worked as a specialist guide across the Wilderness Safaris camps of Africa.
Since 2009 I have specialised as a freelance guide and guide trainer for a number of prominent safari organisations, and have been leading safaris across all the wildlife areas of Africa. My enormous ground base and experience in a wide range of differing ecosystems and cultures has helped me to become an engaging and knowledgeable guide and host. You can find some of my stories in my book Africa Bites add link to Amazon and sub-menu
My free time is spent reading widely, travelling across the world, climbing major mountains and participating in endurance cycling, running, kayaking, triathlon and swimming events.
I am now based in South Africa and the UK, where Sue works as a Nutritional Scientist.
2. Credentials
Qualifications
• Bachelor of Arts (Geography, History): University of Kwa-Zulu Natal (1984)
• Higher Diploma of Education: UKZN (1985)
• Bachelor of Arts Honours (History): UKZN (1986)
• Botswana Guide's Licence: Full licence (1997)
• Namibia Academy of Training & Hospitality: NATH Badge 1 (2005)
• Namibia National Certificate in Guiding: NATH Level 3(2012)
• Field Guides Association of South Africa: FGASA Level 2 (2011)
• South African National Qualifications Authority Level 4:Nature Guide/FGASA Level 2 Nature Guide(2012)
• Registered with DEAT (Department of Education and Tourism): guide
• Wilderness First Aid Level 1 (2012)
• FGASA Head Trainer status (2015)
Experience
• Mala Mala Game Reserve (South Africa): ranger (1992/3)
• Teaching and training: South Africa, UK and Japan (1993 – 1996)
• Linyanti Explorations (Botswana): guide and lodge manager (1997- 1998)
• Wilderness Safaris (Botswana): specialist guide and lodge manager (1999 – 2000)
• Wilderness Safaris (Namibia): specialist guide and area manager (2001 – 2003)
• Wilderness Safaris (Namibia): specialist guide and Guide Training Manager (2004 – 2009)
Private guide, guide trainer and African itinerary specialist: self-employed (2009 – present)
Some presentations
• Toastmasters- Riverside Communicators video clip to follow
• SACA (South African Chartered Accountants, London chapter) photos to follow
3. Guide Training
LCCA does more than arrange amazing trips to Africa and take people on them. There is a gaping need in African safari tourism for good local lodge guides, and I play an important part in dealing with this. My experience in teaching and wildlife training has been extremely beneficial to many lodges across the continent. LCCA offers a full range of lodge service training and safari guide training at several levels. The training is usually conducted as seven to ten day full-time course, at the lodge, for up to 12 candidates. The courses are practical, hands-on learning experiences, with a minimum of classroom work. This is all about 'learning while doing', and there is a very strong emphasis on helping the candidates to understand the needs of First World guests.
I have a FGASA (Field Guide Association of South Africa) Level 2 qualification, recognized by the SA National Qualifications Authority and DEAT (Department of Education and Training) and am also recognized by FGASA as a Head Trainer. I offer the internationally recognized FGASA field guide training, as well as bespoke courses such as those listed below.
Guides courses offered
Introduction to Guiding: Level 1 (aspirant guides/lodge staff who have the potential to become guides. Focus on basic bush knowledge, understanding the guests, safety and service)
Taking the Next Step: Level 2 (guides already working in the industry who need specialised knowledge. Focus on twenty knowledge modules)
Boredom is the Enemy: Level 3 (experienced guides who need to be re-energised and who need new perspectives on their work. Focus on guiding techniques and tricks that entertain the guests, develop unusual knowledge that other guides don't know, and having fun with the job)
A Walk on the Wildside: Level 4 (experienced guides who now want to round off their abilities by leading guests on single or multi-day walks. Focus on walking safety drills, deeply specialised knowledge of the 'small stuff', and the development of guided and self-guided walking trails and literature
Bespoke: whatever the lodges particular needs may be, such as motivational courses, development of Guiding Protocols, mentoring of individual guides, guide assessments.